Original Six 3on3 Tournament
---
August 30th - September 1st 2019
Calgary 3 on 3
---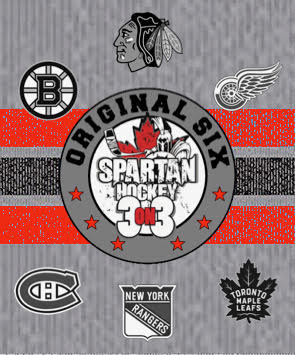 RULES OF PLAY:
1) All games will be 2 x 20 minute run time period. 3 min warm up
2) Face off at start of each period at centre ice
3) Goalie has 10 seconds to get rid of the puck
4) No icing rule in effect
5) Tag up off sides-when players are offside, all must clear the offensive zone the the neutral zone before re-attacking in the offensive zone
6) Goalies will not switch ends
7) When a goal is scored, the scoring team is required to retreat back to the blue line until the puck is brought forward to the blue line by the team that was scored on
8) Each team is awarded one 30 second time out
9) If a puck is deflected out of the rink there will be a normal face off in the appropriate place
10) Line changes in 60 second intervals via buzzer, drop puck immediately and skate to bench (atom and peewee line change on the fly-no buzzer)
11) Bench doors are not to be opened until the buzzer sounds
12) All penalties will result in a Penalty shot situation for the offended player. The referee will place the puck on the centre ice and the remaining players will line up, stationary, on the backside blue line. On the referees command the offended player will attempt penalty shot with all other players in pursuit. The play is live after the penalty shot.
13) When a penalty is called the clock will NOT stop.
14) Points will be earned by this format: 2 points for a win, 0 points for a loss.
15) No overtime during round robin, goes to a shoot-out (5 minutes allowed 3 player shoot-out. If still tied, shooters will be selected one by one until one team outscores the other. All players must have a turn before any player is chosen again for the shootout.)
16) Goalie may be pulled in the last 3 minutes of the game, or on a delayed penalty call
17) Flood done before each game only
18) A tie in total points after round robin play will be decided as follows: Head to head / Goal differential (max 7) / Goals against / Coin Toss